AMZScout vs Jungle Scout
Which tool is better?
Today, it is easier to get started selling on Amazon than ever before. With so many Amazon seller tools available, new sellers can learn all they need to know about a potential product or niche before they begin selling.
AMZScout and Jungle Scout are two of the most popular Amazon seller tools due to their extensive featured sets and robust sales data.
While there are many similarities between the two platforms, there are some notable differences you'll want to be aware of before you choose one to plan and manage your Amazon business.
In this post, we will compare AMZScout and Jungle Scout to see how they stack up to one another.
Free Trial
Beyond affordability, it is important for an Amazon product research tool to offer a free trial. You never know if a solution will be right for you.
That being said, it can be incredibly useful to try it out before you have to pay.
Jungle Scout
Jungle Scout does not offer a free trial. If you want to see how the platform works firsthand, you will need to pay.
Because Jungle Scout doesn't offer a free trial, you must complete the entire account setup process to begin using the tools.
AMZScout
AMZScout offers new users a 7-day free trial. No payment details are required upon signing up.
With a free trial, AMZScout not only gives you the ability to test run the software before you subscribe but also makes it easier to get your account up and running. You do not need to provide your payment details to begin the free AMZScout trial.
Try AMZScout for FREE right now! No credit card required
By entering your email, you agree to receive marketing emails from AMZScout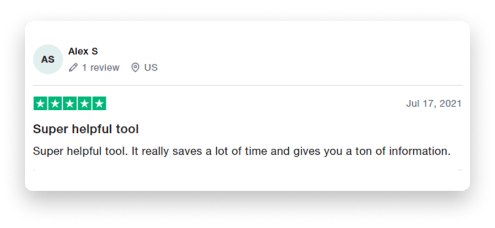 Product Research
Next, we will look at how the two platforms compare when it comes to product research. Both offer subscribers several tools for finding profitable products to sell on Amazon.
Jungle Scout Product Research Tools
Jungle Scout Product Database

The Jungle Scout Product Database contains data on hundreds of millions of Amazon products. You can use the tool to search and analyze products based on a variety of criteria and metrics such as sales, price, revenue, and more.

Jungle Scout Browser Extension

The Jungle Scout Browser Extension lets you analyze product data while looking at items on Amazon.com. You can use it to review much of the same performance metrics offered by the Database.
AMZScout Product Research Tools
AMZScout Product Database

The AMZScout Product Database contains data for over 550 million Amazon products. The database makes it easy to find items that match your exact criteria with dozens of advanced filters you can use to refine your search.

When you enter a search, the web app shows matching products and their estimated sales, estimated revenue, price, FBA fees, and other important information.

AMZScout PRO Extension

The AMZScout PRO Extension gives you the ability to analyze products and niches while on the Amazon marketplace. The Chrome extension is easy to use and will show you the same crucial data available in the Product Database.

The PRO Extension provides additional insights including the niche score and niche history. These let you quickly assess the overall viability of a market and include a list of where the niche is strong and where it is weak. The AMZScout extension also has a product score for both private label and reselling so you can see what works best given your sourcing method.

Amazon Dropshipping & Arbitrage Tool

The Amazon Online Arbitrage and Dropshipping Product Research tool helps dropshippers, wholesalers, and arbitrage sellers quickly find product ideas that work with their business model. As a reseller, you can use the tool to check a product's price across all sellers to see if you can win the buy box with your target sales price. The extension also includes a built-in calculator, where you can enter your variables to quickly see your potential sales and profitability.
Key Differences
Here are the most notable differences between the product research tools for the two platforms
AMZScout Database Features More Product Listings

To start, AMZScout's product database contains details for more items in Amazon's catalog. This enables sellers to conduct more thorough research, as their searches for products will have additional options to surface.

New and Trending Filters

AMZScout has a couple of extra features to streamline the product research process. These are the New Products and Trending Products filters.

You can select the filters to have the data table only show products that match that trait. This allows you to quickly review potential products to find those that meet your desired characteristics.

Data Accuracy

Because this data comes from the providers themselves, we do not know how reliable it is. However, research from third parties has consistently shown that Jungle Scout tends to overestimate a product's sales, while AMZScout tends to underestimate them.

Underestimated sales numbers are preferred, as they are less risky, and you won't end up planning for more sales than what you can actually get more
Weekly Trend Report

With AMZScout, you get a Weekly Trend Report - it's displayed in the AMZScout Web App interface. You can use the Trend Report to find ideas of promising niches. The niches are selected by an algorithm according to those with the strongest trends.

Listing Quality Score

LQS is an important metric for seeing if a niche is filled with products with high-quality listings that will be difficult to compete with.

With that in mind, the LQS feature is much more efficient with AMZScout. Their score uses a point system that ranges between 1 to 100. Jungle Scout's score only goes from 1 to 5. AMZScout gives sellers a more detailed idea of how well the listing is made.

Product Research for Dropshippers, Wholesalers, and Arbitrage Sellers

AMZScout is a better fit for a variety of sellers. Jungle Scout offers many features, but they are all geared towards private label sellers. This causes a problem for anyone looking to use any other sourcing method.
Find profitable products today with a Product Database and PRO Extension FREE TRIAL! No credit card required
By entering your email, you agree to receive marketing emails from AMZScout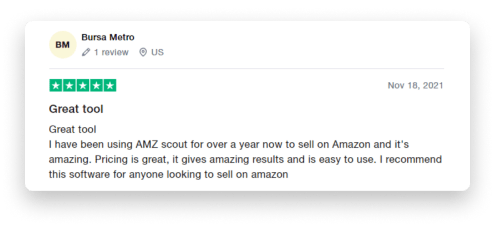 Other Free Product Research Tools from AMZScout
Amazon Sales Estimator

This tool provides an estimate of a product's monthly sales given a particular sales rank

FBA Calculator

This tool shows the storage and fulfillment fees for any product on Amazon. With the calculator, you can enter your own variables to see your potential profit.

Stock Stats

This tool lets you see the inventory levels for listings from any seller on Amazon
Keyword Research and Listings Optimization
Keyword research is a critical part of selling on Amazon. With it, you can see what search terms your customers are using so that you can optimize your listings to appear for those terms. Keyword research also gives you insight into a product's overall demand and how much organic traffic you should expect if you can get your listing to rank.
Let's take a look at the keyword research and listing optimization tools offered by AMZScout and Jungle Scout.
Jungle Scout Keyword Research Tools
Keyword Scout

With Keyword Scout, you can search phrases to find related keywords that customers use when searching on Amazon. The tool shows the monthly volume for each term.

Reverse-Search

Jungle Scout's keyword research tool also includes an ASIN Lookup feature that you can use to find the ranking keywords for a product. You can use these insights to learn from your competitors' listings and adjust your own marketing strategies.

Rank Tracker

Jungle Scout comes with a Rank Tracker tool that you can use to monitor your keyword rankings over time. You can also use it to search for other products to track their keyword rankings.
AMZScout Keyword Research Tools
Amazon Keyword Search

The Amazon Keyword Search lets you search phrases to find keywords used by Amazon customers. The results display the term's volume as well as a graph showing its historical search volume. When you click a term, you are taken to the Product Database where you can review items that rank for the keyword.

Reverse ASIN Lookup

The Reverse ASIN lookup tool lets you reverse search a product using its ASIN to discover all the keywords that the product is currently ranking for. This is a fast way to find all the relevant keywords for a potential product.

Keyword Tracker Extension

The Keyword Tracker enables tracking the keyword rankings for any product simply by entering its ASIN. You can use it to run cost-effective PPC campaigns by only selecting the best-performing keywords for your products.

The extension also has charts and visualizations to show you where your product ranks for a particular keyword and how that position is changing over time.

AMZScout PRO Extension

There is also a useful feature in the Pro Extension that you can use for finding keywords. With the feature, you can write one keyword and quickly bring up new keyword ideas by clicking "niche keywords".
Key Differences
Detailed Listing Analysis

In addition to a more thorough scoring system, AMZScout's listing quality feature also provides more detailed information about the listing. With AMZScout, you can hover over the listing quality score to see a list of pros and cons covering all the important areas of an Amazon listing.

You can use these insights to get a better idea of what to focus on to make your listings stand out, should you decide to sell that item.

Data from Google Trends

The AMZScout PRO Extension provides more detail into a search term's interest over time by including data from Google Trends. You can use these insights to see if the demand for that type of product is sustainable.
Extra Tools

AMZScout comes packed with extra tools that you can use to optimize your Amazon listings. For example, the Super URL tool.

With the Super URL tool, you can create unique optimized links for each of your products that will help improve your Amazon search rankings. AMZScout has more extra tools than Jungle Scout.
Try AMZScout Product & Keyword Research Tools for FREE No credit card required
By entering your email, you agree to receive marketing emails from AMZScout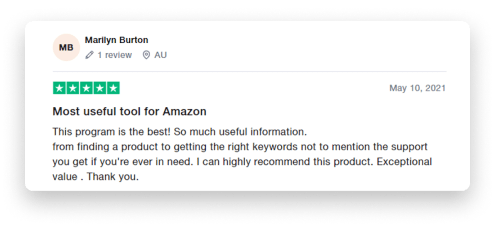 Learning Materials
Last up in our AMZScout vs. Jungle Scout comparison are the learning resources. Both platforms offer users educational material to help them grow as Amazon sellers.
Jungle Scout
For Jungle Scout, signing up for any one of their paid plans grants you access to the Jungle Scout Academy. This training program contains videos covering every important area of being an Amazon seller.
AMZScout
AMZ Scout has several learning resources for Amazon sellers.
Amazon Seller Course for Private Label

This free resource contains video lessons walking you through all the steps you need to take to begin private label selling on Amazon

Seller Training for Dropshippers, Wholesalers, and Arbitrage Sellers

This course teaches how to sell using dropshipping, arbitrage, or wholesale.

Amazon Seller Masterclasses

These classes feature lessons taught by successful six and seven-figure Amazon sellers. During the classes, the instructors provide thorough training for different parts of running an Amazon business.
Overall, the learning resources for the two platforms are comparable in quality. However, AMZScout offers sellers more educational material than Jungle Scout. Plus, AMZScout has free courses that people can use to begin to learn about the process of selling on Amazon without having to sign up for a research tool first.
Pricing
Finally, we will look at how the two platforms compare when it comes to pricing. When choosing a new software tool for selling on Amazon or any other business, the cost will likely play a big role in which solution is best for you.
Below, you can see the pricing plans for AMZScout and Jungle Scout.
Jungle Scout Pricing
Basic: $29 per month ($349 yearly)

Suite: $49 per month ($589 yearly)

Professional: $84 per month ($999 yearly)
Jungle Scout offers a 7-day, money-back guarantee for its plans.
AMZScout Pricing
PRO Extension: $16.49 per month ($197.99 yearly)

Amazon Seller's Bundle: $29 per month ($349.99 yearly)

Amazon Seller's Bundle: $1,499 for a lifetime
AMZScout offers a 10-day, money-back guarantee on both of its plans. There are also lifetime plans which give you access to the PRO Extension or Amazon Seller's Bundle for one payment of $499 or $1,499, respectively.
At first glance, we can see that AMZScout's plans are less expensive than Jungle Scout's. AMZScout users can get access to the full suite of tools for less than half of what it would cost to use the other platform.
Another advantage AMZScout has over Jungle Scout is its lifetime plan. You can choose to make a one-time payment to get access to the platform for life. Jungle Scout does not have such an option.
Which Tool is Better?
The affordability and data accuracy offered by AMZScout sets it apart and will make it the go-to option for many Amazon sellers.
After all, you should be investing more in your actual business, not the tools that you use.
Try AMZScout today and start finding those winning products! No credit card required
By entering your email, you agree to receive marketing emails from AMZScout