AMZScout Reverse ASIN Lookup
Trusted by 500,000 Amazon sellers!
See all the
Keywords
a product is ranked for!
Create Effective PPC Ads: Quickly see all of the keywords that competitors' products rank for and use them in your own PPC campaigns so that your budget is used efficiently
Boost Your Organic Traffic: Find the best keywords for your listing to attract new buyers and get sales
Choose Products People Want to Buy: Gauge how popular a product is by seeing the estimated monthly search volume of its keywords
TRY Reverse ASIN Lookup For Free! No credit card required
By entering your email, you agree to receive marketing emails from AMZScout
Chrome Store Rating | 500,000 users
over 5 million profitable products found
We're proud to see AMZScout at work in thousands of corporate and home offices
Get Your Keywords in 3 Quick Steps

Log in to AMZScout
Sign up on the AMZScout website and select "Reverse ASIN Lookup" from the menu
Enter an ASIN
Type the number of any product on Amazon into the Amazon ASIN Lookup tool and get your keywords
Get Powerful Results
Receive a list of hundreds of related search terms. Use the available filters to narrow your search and find the perfect keywords.
TRY Reverse ASIN Lookup For Free! No credit card required
By entering your email, you agree to receive marketing emails from AMZScout
Spy on Your Competitors
Track Your CompetitionSee where your competitor's product currently ranks for each keyword and what page of the search results it shows up on
Get New Keyword IdeasFind out what search terms your competitors are using to discover new keywords for your products
Build Better Ad CampaignsDiscover what keywords your competitors are targeting and use them in your ad campaigns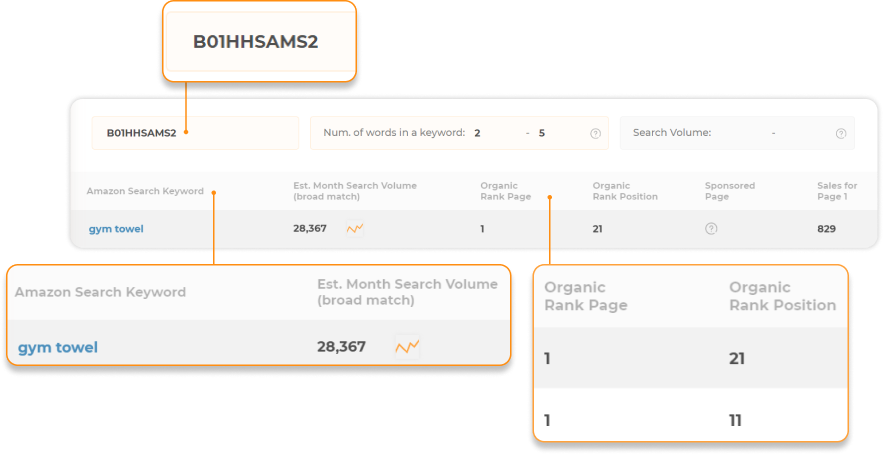 Optimize Your Listing and Increase Organic Sales
Find the Best KeywordsLearn which terms receive the most monthly searches and include those in your listing
Choose Relevant TermsThe relevance score tells you how relevant a keyword is to your product. Select the terms with the highest score so that more customers will see your product in search results.
Track Keyword RankSee how high a product is ranking for important keywords to plan your SEO strategy or borrow successful competitors' techniques
Learn How to ImproveFind out how many sales your product needs in order to appear on the first page of Amazon's search results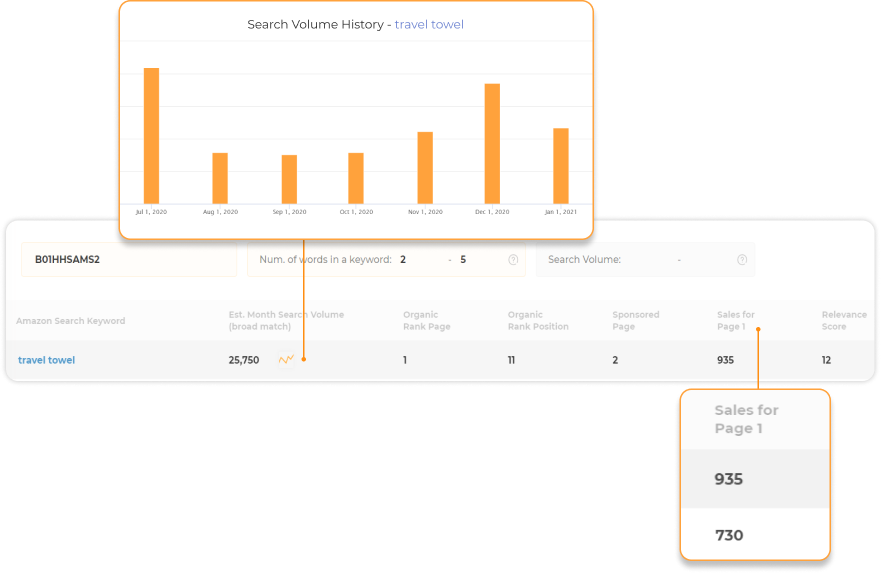 Get More Sales With Your PPC Campaigns
Get More TrafficTarget keywords with the highest estimated search volume, meaning you'll get more traffic from your ads
Increase Your ConversionsUse the relevance score to find more relevant terms for your ads. This means that clicks on your ad will result in a sale more often, giving you more sales and less wasted advertising budget.
Track Product AdsSee which page of Amazon's search results your sponsored product ad is showing up on to identify how effective it is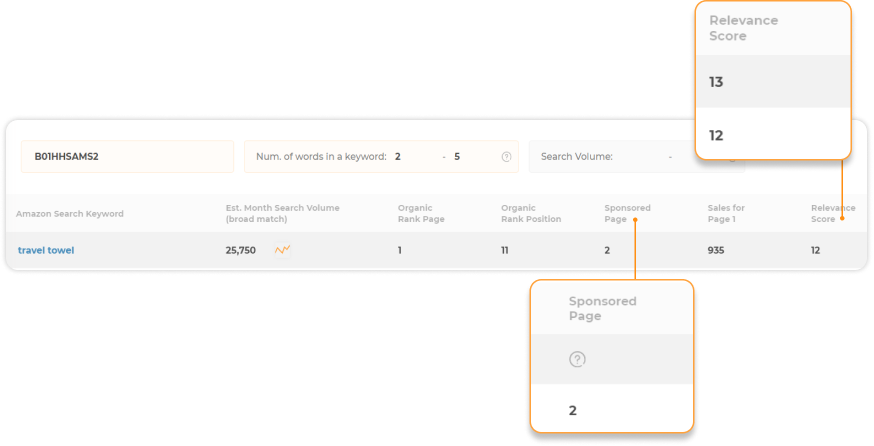 See what keywords your product ranks for!
Start a free trial of Reverse ASIN Lookup now and
check up to 10 products
TRY Reverse ASIN Lookup For Free! No credit card required
By entering your email, you agree to receive marketing emails from AMZScout