Get the top booming product ideas to grow your Amazon business
Is there no one on your team who can research and understand the market and its rules?
Do you spend an awful amount of time finding trends that don't guarantee success?
Have you ever brought a product to the market too late, only to see the price wars kill the profit?
Sometimes you think that there can't be more ideas for your product line, and that you've sold every product you could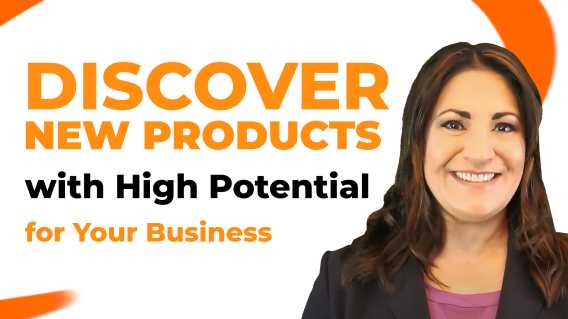 Right now, you have the chance to order a list of emerging product ideas, manually selected just for you according to your personal criteria, suitable for both private labels and brands.
If you miss this opportunity, your competitors will take up 90% of sales in new niches - make the opposite happen.
HOW we do it
We use AI to analyze millions of niches by multiple criteria
to make a pool of the strongest product candidates. There are over 600 million products only on Amazon U.S., and we take full advantage of that variety.
AMZScout experts hand-pick the best products and niches
out of that pool and pack them into a PDF document
it can be done for any product category
It takes about a week to do the research
What you will get
A list of
exclusive, booming products tailored to your selected categories
and range of products
Products that are outperforming by parameters
like profit margin, revenue, growth pace, sales velocity, low competition, and any other specific criteria you have in mind
Keyword research for each product
to help you rank at the top of Amazon searches among competitors
Great examples of local and global suppliers
in your marketplace for shipping new products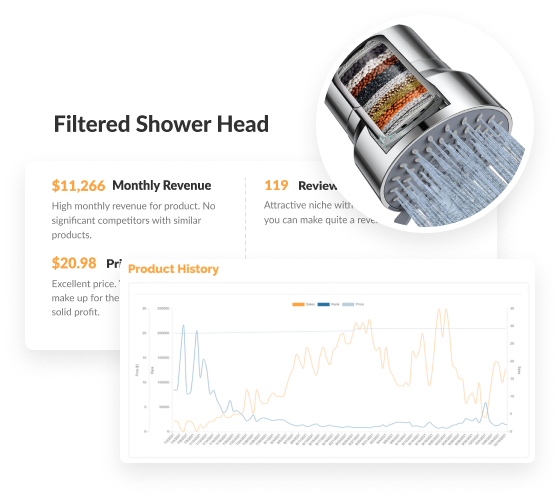 The list is unique to your needs, meaning that we won't share it with any other seller. You will have more time and higher chances of launching a product that will sell well.
Get the sample product research report in your inbox with detailed Amazon product analytics
No credit card required
No credit card required By entering your email, you agree to receive marketing emails from AMZScout
How does it work in the real world?
01
Veronica occupies a highly competitive niche - Kitchen Supplies. She would like to earn more money, but she doesn't have the resources to find new products to sell, so for now she just sells what she already has.
02
She ordered an AMZScout Individual Report and selected "Home & Kitchen" from the drop-down menu.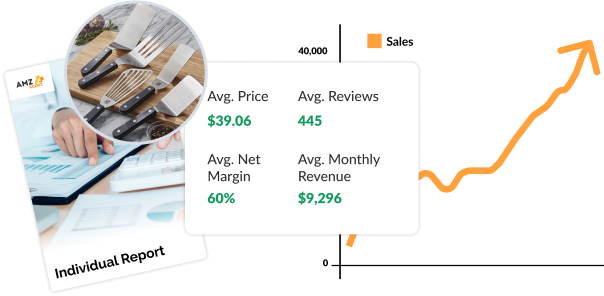 03
After just one week, she receives a hot product idea report. The report gave her a link with information about where she could buy the product, so she ordered a batch and started selling it on Amazon. Her profits have increased by $10,000 a month.
What our happy customers say
I'm a business owner and I was way too busy to do research. Teaching employees would take too long and I am not an expert to begin with. There is just so much to consider when choosing a product, like profitability, competition, whether it's a growing trend and so on.
That's why I've ordered an AMZScout Individual Report, taking into account your product research experience and expertise. I wanted reliable niches with strong potential and I wanted them quickly.
To be honest, it seemed pricey, given I was not 100% sure what I'd get. Turns out, it was completely worth it. I launched 3 products from your report and they all showed great results.
One thing I regret is sitting on your report for a while after I got it. I could've made about $60,000 more of net profit per month if I acted sooner.
Now I am looking forward to getting my next Individual Report and finding new products to launch!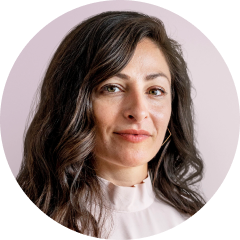 AMZScout
is a software company with a team of developers and analytics
They constantly monitor Amazon and find emerging opportunities every day. In comparison with agencies who offer product ideas as well, we know all the data that stand behind our choice. AMZScout's job for 4 years has been to provide new items to product lines of brands and smaller labels.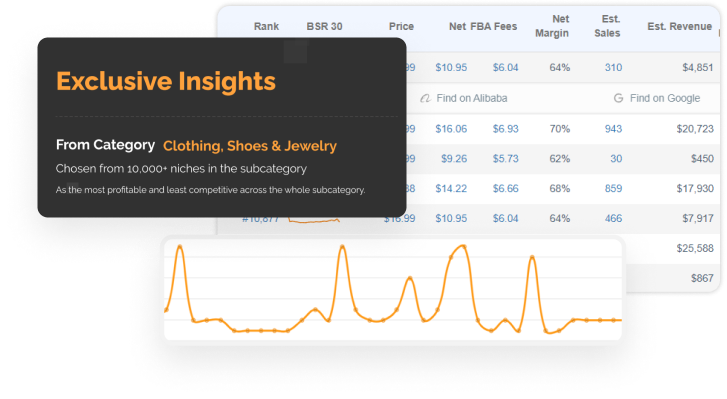 AMZScout's algorithm and experience is trusted
by hundreds of big brands and by millions of customers
We spot new trends before everyone starts selling those products.
Our method is a combination of machine learning and human approach.
Just imagine
Your team spends zero time on product research with the AMZScout Individual Report!
You are certain that from now on, the amount of successful productswill be much higher. You are among the first to get into growing niches and take 90% of sales.
Your business grows naturally and margins get higher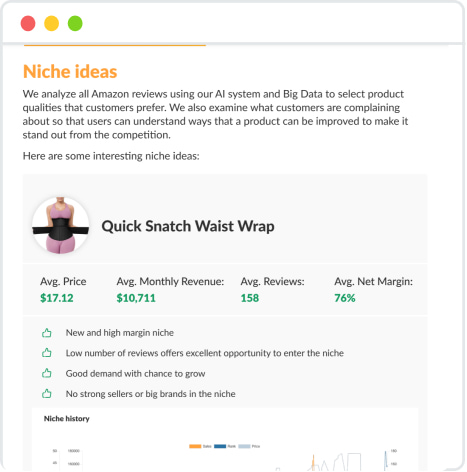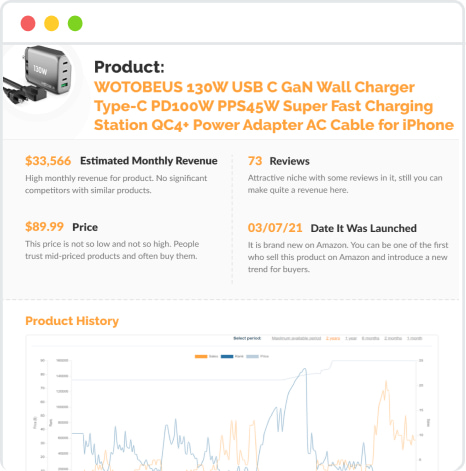 Order your Individual Report now and get ready to launch the next bestseller in a week!
48-hour money-back guarantee.
Once your payment is submitted, you will be redirected to fill in a brief form with your criteria. You will receive a completed report within 8-10 working days.