亚马逊新手开店注册全教程
详细讲解亚马逊卖家注册方法,开店流程,如何通过二审等
亚马逊新手货品上架以及发货全流程
亚马逊新手开店常见问题解答,FBA完整流程,新手常见错误等
亚马逊选品技巧分享
亚马逊选品技巧,如何延展成一个品牌线,产品线思维等
什么是UPC,ASIN,FNSKU ?
科普什么是UPC,ASIN,FNSKU 以及如何使用它们
亚马逊运营知识分享
亚马逊运营技巧,选品技巧以及实用免费工具分享
亚马逊卖家如何快速获取产品评论?
做亚马逊快速催评论的正常方法以及相关注意事项
How to Sell on Amazon. Free Course
Lesson 1
Intro
An overview of what to expect to learn from this course. The structure of the lessons, the purpose, and goals of the course etc..
Lesson 2
Types of products to avoid as a beginner seller
An in depth analysis on 4 product properties to avoid as a new seller and why. We also pinpoint the best areas of Amazon for a beginner to enter.
Lesson 3
The qualities of a good product
Detailed data-based criteria and analysis on what to look for in a product along with how to get the information necessary to make your decisions.
Lesson 4
Where to look for product ideas?
How to use different places online to discover solid leads on product ideas. We discuss a "seller's mindset" while performing real life product research.
Lesson 5
Making a product your own
How to make your private label product unique and begin building your brand.
Lesson 6
Finding a supplier and getting a prototype
How to identify the right supplier and communicate effectively to get the right specifications for your prototype.
Lesson 7
Testing your prototype and bringing it to market
The Final Stages before launching: stress testing, managing inventory, and shipping to Amazon with the goal that you'll be ahead at the start of your Amazon product launch!
Join our Facebook group to stay informed about recent Amazon trends and news or chat with other sellers!
How to Sell on Amazon. Extended Course
Select a plan to get full access to the Extended course!
Lesson 8
Learn how to create your Amazon seller's account
How to create AMAZON seller account. Making An Amazon Seller Account Step-By-Step.
Lesson 9
How to Find and Negotiate with Suppliers for Amazon
Sourcing from the largest wholesale retailer to increase your business growth? Find out how to negotiate with Alibaba suppliers and what you should look for when finding them.
In this video we'll cover:
-What issues can arise without a good supplier and how to prevent them.
-Initial step before ordering products. Check out how to find suppliers on Alibaba right from PRO Extension.
-The easiest way to verify chinese suppliers and manufacturers on Alibaba. How Trade assurance works.
-Factors to pay attention to when contacting and negotiating with suppliers on Alibaba to talk about your order.
Lesson 10
Utilize the keywords in your listing and PPC campaigns
Utilize the keywords from AMZScout webapp to build a great listing and strong PPC campaign.
Lesson 11
All about barcodes for your product
Learn what barcodes you need for your product and how to get them.
Lesson 12
Reviews on Amazon and Private Labelling
Use competitors' reviews to understand how to stand out in your niche, make your product better and create a Private Label.
Lesson 14
Amazon FBA Product Launch - How to find Ideal Keywords for your Listing and Ads
While launching a product on Amazon, there are two fundamental steps to start with: Listing optimization PPC Advertising So it's important to set up everything you need before you start selling. In this video you'll learn:
-How to find out as quickly as possible if your product is viable
-How to make and adjust a product listing
-What are the best keywords and how to get them
-What is the most effective Amazon PPC launch strategy
-How to measure the success of your campaigns
-What's a recommended daily budget for your initial PPC campaign
-How to improve your organic search ranking, and how to track the results
-If it's worth using large discounts while launching a product
All information is followed by examples, so make sure to watch the video until the end!
Lesson 15
Can you start an Amazon Private Label in 2 months with $3,000?
In this video we'll cover the most frequently-asked questions about the Amazon Private Label strategy:
-How much money do you need to start an Amazon FBA private label?
-High-risk business model vs low-risk model
-Basics of product niche choice, while minimizing risks of monetary loss
-How does product lead time (production + shipping time) impact your business success and cash flow?
-Amazon Private Label vs Wholesale vs Retail Arbitrage
-Which prices are better for a successful product launch and higher profit margins?
-How long does the product research stage take?
-How to avoid costly mistakes with your first product
Lesson 16
Selling on Amazon.com from the USA and Outside the USA - Legal Aspects
How do you sell on Amazon US, from anywhere? Do you need to set up a business in order to start selling on Amazon?
In this video we'll answer all related questions:
-Do you need a company if you sell from the USA?
-How to start selling on Amazon.com if you live outside the USA?
-Which selling models require a business?
-Legal aspects: bank account, EIN, taxes, etc.
-Do you have to register your own business if you do Private Label, retail arbitrage, or wholesale?
-Benefits of your own company: trademark registration, product insurance, etc.
-Where to start a business? Which state to choose?
Lesson 17
How to Do Product Research - Find a Product to Sell in 7 min
Find out how to do product research on Amazon in 2020 to build a successful ecommerce business. Video tutorial for Amazon sellers on finding and validating product ideas and checking their profitability.
Step-By-Step product analysis with an Amazon FBA expert using AMZScout tools:
Explore ideas for a new product with AMZScout Product Database.
Check keywords on which this product is ranked with AMZScout keyword tools.
Find the product on Amazon market to see its demand and sales history in PRO Extension.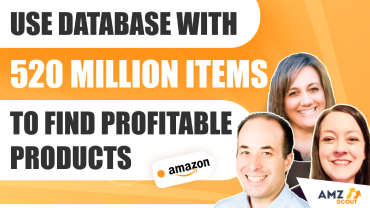 Lesson 18
Find Product Ideas for Amazon Using AMZScout Product Database
Looking for new Amazon product ideas to sell? AMZScout Product Database is a great solution to start with Amazon FBA selling. This tool allows you to explore Amazon's database using 44 different filters. You can search for the best products to sell based on: Category, Product Tier, Seller Type, Price, Rank, Estimated Sales, Estimated Revenue, Reviews, Weight and more.
Lesson 19
How to Generate a Super URL to Boost Your Sales and Rankings
Want to improve your organic search results, boost your conversions and increase sales? Amazon Super URLs are your hack assistant. What are Amazon Super URLs? They are specific generated links that direct users to Amazon pages that you want a customer to visit. Watch the video to learn what Super URLs are for, how each URL type works and how you can create them to increase your sales.
Lesson 20
Amazon SEO: How to Rank Higher on Search Results
Want to create an effective Amazon SEO strategy for your business? In this tutorial, you will learn about the main components of an Amazon listing and how to optimize one properly.
Lesson 21
Amazon Reverse ASIN Lookup Tutorial Find Competitors Keywords
How to get on page 1 on Amazon using only one tool? Reverse ASIN tool by AMZScout helps to optimize your listing and increase organic sales in 3 quick steps.  
In this video you'll learn how to research competitors keywords, find terms with the most monthly searches for your listing and track how a product is ranking with Reverse ASIN lookup.
Lesson 22
How to Ship to Amazon FBA Step by Step Tutorial
Want to learn how to ship to Amazon FBA, prepare your first product for delivery and create a shipping plan? In this step-by-step Amazon tutorial you will learn about the Amazon FBA shipping process. This guide for beginners will help you to understand how to ship your products to Amazon warehouses and make selling on Amazon faster and easier.